As reported by Bloomberg.com<
December 20, 2016, 4:21 PM EST
FedEx Corp. fell the most in almost six months after profit at the air-freight pioneer took a hit from rising investment in a complementary business: ground delivery.
Operating income fell 12 percent in the ground operation as spending on network expansion fueled a rise in costs. Chief Financial Officer Alan Graf called the decline in the unit's profit margins "a bit shocking,'' but insisted that the outlays would help the shipping company strengthen returns in the long term.
FedEx is spending about $2 billion this year as it expands sorting hubs and distribution centers, and increases automation in its ground operation to handle growing e-commerce shipments. Expenditures may stay at that level next year as the Memphis, Tennessee-based courier tries to win business from United Parcel Service Inc.
"FedEx will likely continue to suffer near-term margin pressure due to increased investment in their ground and freight divisions," Cowen & Co. analyst Helane Becker wrote in a note to investors Wednesday. "Long-term, we continue to believe FedEx's investments will lead to margin growth and increased throughput." She reiterated her outperform rating on the stock.
The shares fell 2.6 percent to $193.51 at 9:49 a.m. in New York after earlier dropping as much as 3.2 percent for the biggest intraday decline since June 27. FedEx had gained 33 percent this year through Tuesday's close as the company cut costs at its air-cargo unit and bolstered its foothold in Europe with the purchase of Dutch shipping company TNT Express.
Earnings Miss
Adjusted earnings were $2.80 a share for the quarter ended Nov. 30, FedEx said in a statement after the close of regular trading Tuesday. That trailed the $2.91 average of analyst estimates compiled by Bloomberg.
FedEx's sales climbed to $14.9 billion in the quarter, meeting analysts' projections. Revenue rose at FedEx Express, the company's cargo airline, and at the ground unit as they moved more packages and earned more per shipment on higher base rates, the company said.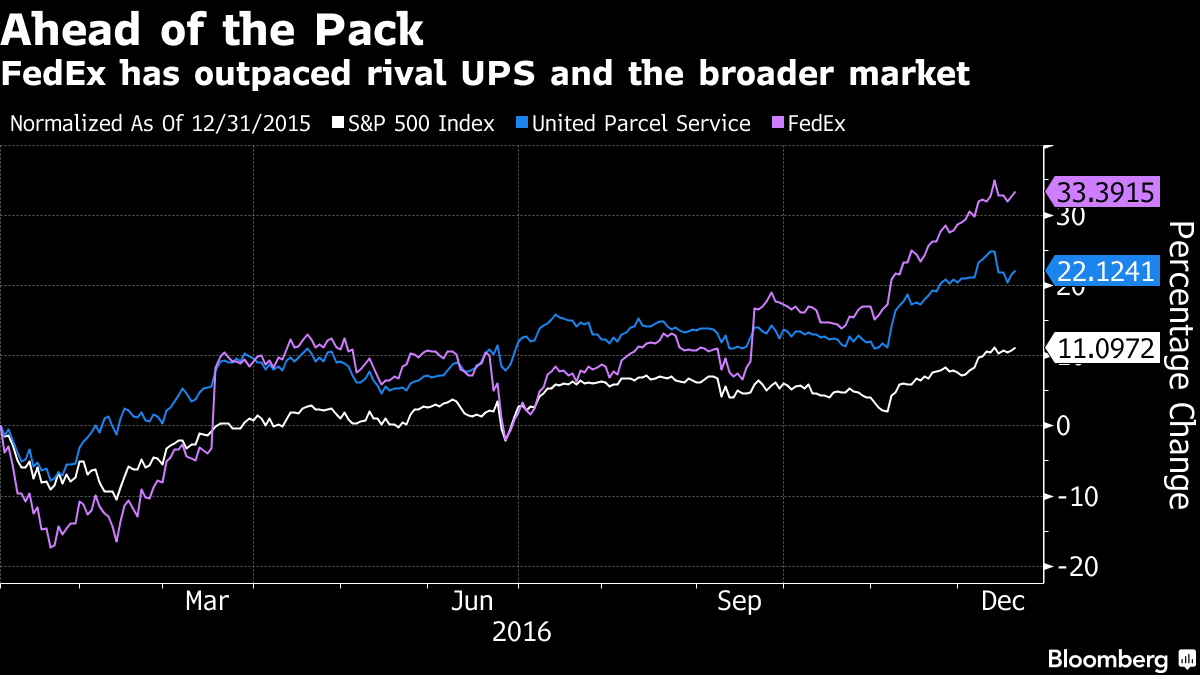 FedEx reiterated its outlook for a full-year profit of $11.85 to $12.35 a share, excluding pension accounting adjustments and costs related to the integration and restructuring of TNT Express.
Peak Season
High costs for the peak shipping season around the holidays proved pricey for FedEx, said Christian Wetherbee, an analyst at Citigroup Inc. He said he was "disappointed" with the results.
"Clearly preparation for peak was more expensive than expected,'' he said in a note to clients.
FedEx said it faced challenges hiring enough package handlers in as many as nine markets. The company is expecting to handle about 357.5 million packages this holiday season, 10 percent more than last year, on an expected jump in online shopping. FedEx hired more than 50,000 temporary workers for the period.
"Particularly this time of year we need to increase hourly pay rates, offer surge pay, peak bonus pay to get an adequate number of people," said Henry Maier, the head of FedEx Ground.
'Proper Return'
The good news: On-time deliveries are at record levels in the critical peak season around the holidays, said Mike Glenn, FedEx's executive vice president for market development and corporate communications. Of the 50 big customers responsible for much of the seasonal surge in demand, most are meeting shipping expectations, he said. A few are below projected demand.
FedEx opted to sever ties with several customers because they couldn't agree on pricing and capacity for the peak season, a critical time for shipping companies.
"We're growing at a rapid rate," Glenn said. "But at the same time, it's important that we balance growth with improvement in yield and get a proper return for the investments we're making."
Results will "pop back up'' as volume in the expanded ground business grows, FedEx Chief Executive Officer Fred Smith said.
Trade Risk
FedEx is likely to benefit if President-elect Donald Trump follows through on plans to overhaul the tax code, Smith said. He met with Trump last month in New York.
Smith also said FedEx was "very concerned about the trade issue" under Trump, who has threatened to renegotiate the North American Free Trade Agreement and accused China of sucking jobs out of the U.S.
Reducing international commerce would be "significantly dangerous,'' Smith said. "The proper approach is to lean into trade and try to remove barriers."
Ken Wood is the founder of LJM Consultants. LJM helps clients negotiate "Best in Class" UPS/FedEx agreements. LJM was recently named the "best parcel auditing company in America" and was also inducted into Inc. Magazine's Top 500/5000 fastest growing companies in America for 2013. To learn how LJM Consultants can help your company get the parcel contract you deserve, call 631-844-9500 or email kenwood@myLJM.com.